WE ARE MORE THAN JUST A PLANT BASED FOOD COMPANY
GoodDO is an off-shoot of the innovative company providing vegan food in India, GoodDot, and derives its name from the rescue goat, Gooddo.
He, along with his chicken friends, was rescued by one of our founders, from being slaughtered for meat. Now, Gooddo, through the all-vegan food outlets and food trucks, under the brand name GoodDO, is returning the favor, to help save his sweet friends all over by providing Vegan Food in India! 
The mission of GoodDO is to serve delicious, cruelty-free food.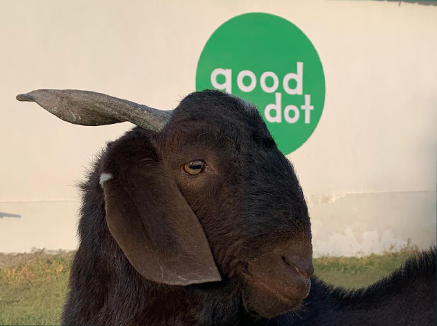 Abhinav Sinha
Co-Founder & CEO
A scientist by training, Abhinav got his PhD in Biochemistry from Oregon Health and Science University (Portland, US) and an MBA in Marketing & Strategy from the Indian School of Business (Hyderabad, India). Abhinav brings a global outlook, coupled with strong analytical mindset and strategic thinking. Driven by a mission to make the world a compassionate place, Abhinav uses his expertise to guide the current operations and future growth at GoodDO.
Shruti Sonali
Co-Founder & COO
Shruti is a restauranteur/hotelier with over 15 years of experience in the hospitality industry, having worked across geographies in multi-national companies such as Taj and Hilton. A seasoned entrepreneur, she launched a chain of upscale restaurants in India, most recently receiving the Times of India Food Award as well. A versatile professional, Shruti leads culinary affairs and launch excellence at GoodDO, among other roles.
Abhishek Sinha
Co-Founder & Advisor
Senior taxation bureaucrat and chemical engineer: Leadership and expertise in strategy, product development, process engineering, and regulatory landscape.
Deepak Parihar
Co-Founder & Advisor
Chartered accountant, serial entre- preneur and an ex-CFO of a leading consumer goods company: Heads finance, legaland operations team, while handling key partnerships.